Welcome to the Internet Home of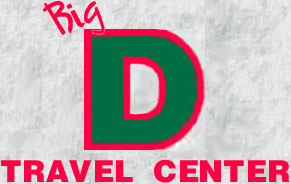 ---
In Irving, Tx., Phone: (972) 445-2443 Fax: (972) 438-2670
Our Physical address is 300 N Loop 12, Irving, Tx. 75061
We accept major credit cards
Full Service Diesel Fueling Center.
We feature Bridgestone and Michelin Tires. We also provide Road Service.
Certified CAT Scales.
Plenty of parking.
Complete Repair, Lube & Tire service.
Clean your truck up in one of our 2 Wash Bays.
Your proprietor at Big D Travel Center, Paul Mood.
How to find us.
We are located @ 300 N Loop 12, Irving Texas 75061 just south of Texas Stadium.
North bound drivers take the Irving Blvd exit. South bound drivers take the Union Bower exit.